Everything $GLP: Hedging, Leverage & Manipulation
Disclaimer: The ideas presented here are not to be taken as financial advice, the research and opinions expressed are purely for educational purposes. 
By now you've likely heard of GMX, the decentralized exchange on Arbitrum and Avalanche most popular for its perpetual futures trading platform. The majority of GMX's volume is on Arbitrum, so that will be the focus of this piece. Rising L2 usage and growing emphasis on "real yield" opportunities in DeFi has put GMX in the spotlight, as its GLP token entitles holders to an impressive 70% of the platform's trading fees. Not only will we be going over what makes GMX an attractive platform for perps traders, but also what strategies GLP holders could employ in various market conditions. 
Thanks for reading PHD Capital Research! Subscribe for free to receive new posts and support my work.
If you've never heard of GMX (which is highly unlikely at this point), there's no better place to start than with this article by Riley.
If you are familiar with GMX, but are just here to learn about GLP hedging/leverage, skip to "GLP Performance" section.
How the GMX Platform Works
There are two sides to GMX, the spot swaps market, and the perpetual futures market. The swaps are pretty standard, allowing users to trade ETH, BTC, UNI, and LINK as well as stablecoins USDC, USDT, FRAX and DAI. The main difference from traditional Dexs here is the use of a multi-asset pool, the GLP pool, which will be covered in detail later in this piece. This mechanism along with the use of Chainlink oracles creates a trading environment with highly accurate price feeds and zero slippage, which is certainly an attractive one for traders. 
Now for the main attraction on GMX, the perps, which as you may know allow users to take long or short positions on ETH, BTC, UNI, or LINK with up to 30x leverage using any of the aforementioned tokens or stablecoins as collateral. This is what's drawing the majority of users to GMX, and there are two native tokens used within the ecosystem.  $GMX is the token for governance and staking, and $GLP is for representing liquidity provider's positions. 
$GMX Token
There are two functions of $GMX, the first of which is voting on the protocol's governance proposals. These include allocating tokens for partnerships, deciding which tokens are available to trade, and determining esGMX emissions. The second use is staking, which entitles holders to rewards in the form of esGMX, multiplier points, and 30% of platform fees. esGMX (escrowed GMX) is a locked form of the token that can be staked to earn rewards similar to regular GMX, or vested to turn it into regular GMX. Vesting involves locking the initial GMX or GLP tokens that earned the esGMX in a vault, where over the course of one year the esGMX will be linearly unlocked as regular GMX. GMX/GLP can always be withdrawn from the vault, but doing so will halt esGMX vesting. For a further explanation of these staking rewards check out this section of the GMX Docs, which lay everything out in great detail. 
$GLP Token and Pool
The GLP pool is where all the trades conducted on the platform are settled. When liquidity providers put their assets into the GLP pool they receive $GLP. Since this is a multi-asset pool any amount of any approved assets can be deposited to mint GLP, and GLP can be burned to receive an equal amount of any of the pool's assets. For example you could make a deposit of only BTC, and then at a later date exchange the GLP you minted for only ETH. This is much more flexible than traditional LPing, where an equal amount of two assets must be deposited to provide liquidity to a pool, and has the added benefit of removing impermanent loss risk. The fees associated with minting GLP vary, based on the current amount of assets in the pool relative to the target weights desired by the protocol. For example if the pool contains 30% ETH and the target weight for ETH is 33%, then minting GLP with ETH will incur less fees than other assets, incentivizing balance in the pool. Currently as of mid September the pool is overweight on USDC and underweight BTC and ETH. 
GLP Value Accrual
Holding GLP entitles you to a share of the pool, and means you are taking the other side of the cumulative longs and shorts open at any time. This means if traders are net long BTC, and BTC price goes up, then the GLP pool loses value as it settles those trades and vice versa if traders lose. However, no matter the results of traders, GLP holders are rewarded with 70% of platform fees, making it an attractive and "real" yield opportunity as its source is revenue and not token emissions. The GLP pool is also used for conducting swaps, and fees generated by those are another component of the platform fees accruing to GLP holders. 
---
GLP Performance
Now that we've covered the basics of GMX and its tokens it's time to look deeper into GLP, and outline some strategies for positioning in various market conditions. At its core, holding GLP is equivalent to holding an index of blue chip cryptos and stables. Weights vary somewhat as you can see in this pool breakdown, but overall it's a pretty conservative basket dominated by ETH, BTC, and USDC.
When traders lose the basket grows, and to the delight of GLP holders traders on GMX are down quite bad on aggregate.
In addition to being a bet against trader profitability, GLP also grants solid exposure to volatility as choppy markets wreck leveraged longs and shorts alike, feeding the pool while holders collect those juicy 70% of trading fees along the way. 
2022's bearish conditions have played out well for GLP, in large part due to the long bias of retail traders which can be observed on this open interest chart below. However, this long bias becomes a detriment to GLP during bull runs since there's a higher likelihood of traders being net profitable and drawing down the pool. 
GMX offers a ton of interesting charts on its analytics page, and this next one is the key to deciphering GLPs performance in different market conditions. The pink line shows GLP price + fees/ a basket of 25% ETH, 25% BTC, and 50% USDC rebalanced daily. The idea is to show if GLP is outperforming that basket or not at any point in time. Combined with some recent market history it can show what conditions are most opportune for holders, and when hedging may be a better option.
 On the left side of the chart we're back in the bull market of Q4 2021, and you can see GLP underperforming this basket by 5-15%. Traders were net profitable, and GMX was relatively new on the scene so fee volume was also lower than current levels. As we move through Q1 2022 when markets began to drop, the traders' maintained long bias flips the net PnL negative and GLP starts to outperform. Later in June when things were getting quite ugly GLP was outperforming that basket by more than 30% due to both trader losses and increased fee volume on the platform. Overall the thesis here is relatively simple, if the market is choppy or bearish GLP will outperform, if we see a major bull run it will underperform as traders are more likely to profit and hedging may be worth consideration. 
Hedging Strategies for GLP
Say you're enticed by the reward earning abilities of GLP, but don't want exposure to the full basket of assets contained in the pool. Maybe you're a total BTC maxi or expect ETH to outperform short term due to a catalyst like the merge. In order to hedge your exposure to any of the other assets within the pool the strategy is to take out shorts on those assets in a ratio equal to the pool's exposure. For example the pool is currently composed of ~17% BTC, so in order to hedge this exposure you would take out a 1x short on an amount of BTC equal to 17% of your GLP position's value. 
If you're new to this and need a full tutorial, check out this thread by TheCalculatorGuy:
In order to take this a step further and achieve a delta neutral GLP position (no directional exposure to the pool's assets while still earning the rewards) you would simply replicate the strategy for all volatile assets in the pool according to their individual weights, rebalancing as those weights change. This strategy would be more optimal in bear markets when alts in the basket that make up GLP are likely to dump more vs. BTC, ETH and stables. It should be noted that adding these hedges will incur some borrowing costs based on the platform you use to take out the shorts.
Umami Finance had previously developed a USDC vault to offer delta neutral GLP yield using Tracer, but ran into issues with the execution. According to their postmortem report an unexpected GLP price dump, and difficulties with automating rebalances, resulted in negative returns and an inability to achieve delta neutrality over the short-lived existence of the vault. Currently the vault is paused while Umami rebuilds for an upcoming v2 version. Umami is worth keeping an eye on as this type of product has the potential to massively streamline GLP hedging, but also goes to show the difficulties involved with maintaining the strategy at scale. This makes alternative ways to hedge GLP all the more interesting, such as shorting yourself or timing the market.
---
Maximising GLP Yield
There's 3 options to maximize your GLP yield:
VST-FRAX Pool increased yield without magnifying any directional risk

Leveraging GLP on Vesta like a degen for up to ~120% APR

GLP → plvGLP via PlutusDAO
1. VST-FRAX Pool
The playbook is simple, deposit GLP into Vesta finance and borrow against it.
Assuming GLP has a yield of 24% and you take out a VST loan at 150%, which you deposit into the VST-FRAX pool, you'll earn:
20% in ETH from GLP deposit

10% on VST-FRAX deposit, but since you took out a loan at 150%, it would be 6.66% on the amount of principal.
In total, instead of 24%, you'll earn close to 27% using Vesta, without magnifying any directional risk.
2. Leveraging/Looping GLP on Vesta Finance
You can now leverage GLP via Vesta. By using borrowed VST (their stablecoin) to buy more GLP, then borrowing against that GLP again, to borrow more VST etc..

You could loop as many times to achieve a max leverage of 6x, magnifying base APR of 20%+ to up to 120%.
While my dopamine systems were initially excited by the 6x leverage and possibility for 120% APR, after I ran the numbers I was quite disappointed.
Here's why:
With leverage there's always the risk of liquidation. Since inception GLP has been fluctuating between $1.30 and $0.80. Here's is why you want to bring your LTV down to 75% or less:
You can get liquidated if GLP is at 90% LTV. The value of the GLP token is determined by the changing value of the basket of tokens that act like an index (of which roughly half are stablecoins).

So if for sake of simplicity BTC, ETH, LINK & UNI all dump 30% GLP would come around 15%. Meaning you'd get liquidated with >75% LTV.
So now let's run the numbers:
Assume you have a $100,000 GLP position with a yield of 30.95%.
When the APR is ≤ 25%, the performance fee is 20%, if it's above, Vesta takes the fee above so user makes 20%.
After one year you would end up with ~45% APR.
So an extra 14% upon your base APR, and in exchange you get to add the following to your risk reward equation:
Liquidation risk

Vesta Finance exploit risk (upon GMX exploit risk)
Not worth it for me personally.
3. GLP → plvGLP via PlutusDAO
Plutus DAO have recently released a GLP vault. The purpose of this vault is to maximize yield for GLP stakers.
plvGLP stakers are currently earning 48% APR. Native GLP stakers are currently earning 28% APR. Why would you, as a GLP aficionado, settle for for >40% less yield? 🤔 Deposit GLP for plvGLP at
plutusdao.io/vaults
and stake it to receive max rewards with max convenience!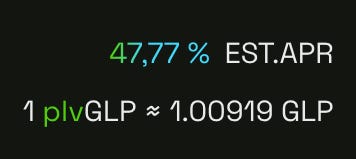 Here's how it works:
GLP can be deposited to mint plvGLP at any time.

Exiting plvGLP is subject to a 2% fee (there's no liquidity pool)

plvGLP is interest-bearing. The APR includes both ETH and PLS rewards, with ETH rewards autocompounding.

The esGMX rewards accrue to Plutus, however the yield from that esGMX is distributed to plvGLP stakers.

Over time plvGLP will become more valuable than GLP (for example 1 plvGLP = 1.2 GLP).
Just like with looping on Vesta there's trade-offs. In the case of Plutus DAO you end up with higher APR but you only add exploit risk (not liquidation risk) to your risk reward equation.
---
Price Manipulation at the Expense of GLP Holders
Because of GMX novel mechanism that doesn't use an orderbook, there's no slippage when opening market positions. An unknown trader successfully used this mechanism to his advantage and pocketed ~$500k-700k in profits.
How?
You long AVAX with leverage on GMX with zero slippage.

Then you market buy AVAX in large quantities on a CEX.

You then close your AVAX long on GMX in profit.

Then you short AVAX with leverage on GMX with zero slippage, market dump AVAX on the CEX, and close short in profit.

Repeat step 1.
You get the idea…
This issue shows that the revolutionary GMX/GLP model is prone to price manipulation for alts. This is not an issue for BTC and ETH, because the liquidity is too deep. This is because the sheer amount of money required to move the price vs. the relatively small GLP pool doesn't make sense in terms of risk/reward (aside from the fact that this is illegal). This does mean that the current GMX/GLP model can never work for illiquid small caps in the future.
Now before you think this is game-over, GMX can solve this issue for larger caps in several ways:
GMX can limit the max position size of LINK, UNI and AVAX. If the max position size is small relative to available liquidity on CEXes, then the profits from price manipulation are negligible. (—> Max position size has already immediately been implemented after the event)

GMX could add the cost of liquidity to a trade by reflecting particular liquidity / orderbook depth on CEXes. The spread could be paid to GLP holders.

Limit max open interest; Imagine a whale building up a huge long slowly and then pumping prices on a CEX. This is riskier as they need to keep the prices inflated for longer to sell, and creates systemic risk for GLP.
---
Summary/tldr
In summary, GLP is an attractive asset for the legitimate yield opportunity presented by accruing 70% of GMX platform fees, and the absence of impermanent loss risk due to the multi-asset pool structure. Owning GLP is akin to holding an index of blue chip cryptos and stables, making it a relatively conservative asset, and prone to underperformance during a bull run.
Holders essentially take the other side of all GMX trader's perps positions, so the pool outperforms when net-PnL is negative. This scenario is most likely to occur in crab and bear markets, but in a raging bull market retail trader's long bias makes them more likely to profit and at the expense of GLP holders. In this case there's two options: Either timing the market and getting out of GLP at the right time or hedging the underlying assets in the GLP pool to limit downside risk while still holding GLP for the yield.
You can maximize your GLP yield with or without leverage using either Vesta Finance or Plutus DAO, where I'm personally biased towards PlutusDAO.
And finally it's worth keeping a close eye on how GMX will implement small changes to their GLP model for any other coin besides BTC and ETH.
Thanks for reading PHD Capital Research! Subscribe for free to receive new posts and support my work.